FEATURED ALS ONE CARE TEAM EVENT:
Join us on Saturday, February 20th from 1-3pm via zoom for a very special session!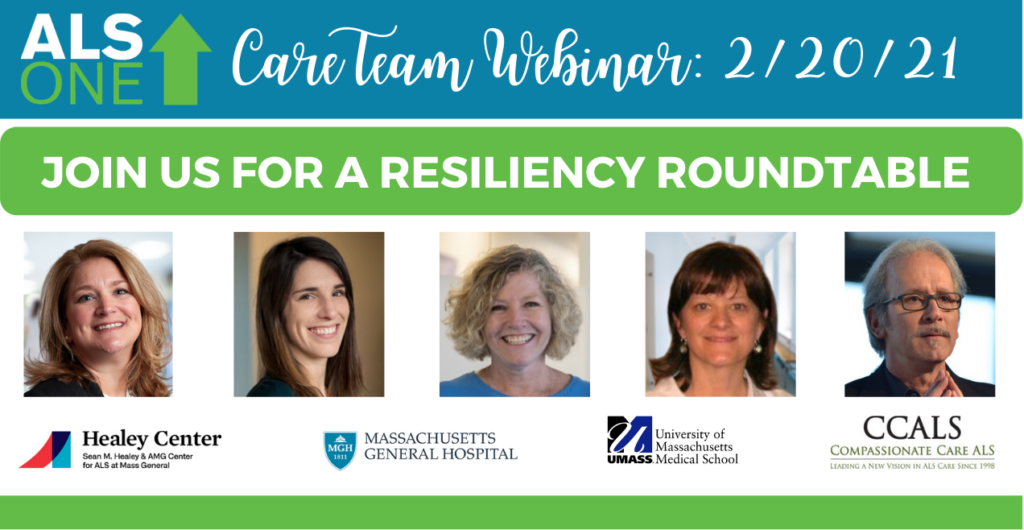 PALS & CALS, please join us for a special roundtable discussion with members of our ALS ONE Care Team to hear the latest information on the COVID-19 vaccine, how we are adapting for our ALS families, and inspiring stories of resiliency during this increasingly difficult time. If you'd like to share what helps to keep you resilient and ways that you are finding your strength during these increased challenging times, we'd love to hear from you. What tools or interventions have you used to help keep you safe from COVID yet keep you close with the ones you love? Please submit by 2/13/21 to Jen DiMartino at jen@alsone.org and kindly put RESILIENCY WEBINAR in the email subject line.
Register for free for this very special session at: https://bit.ly/ALSONERESILIENCY.
The roundtable discussion will be with members of our ALS ONE Care Team (pictured above, left to right): Darlene Sawicki MSN, NP-BC, Jen Scalia MSN, NP-C and Judi Carey RN from The Healey Center for ALS at MGH, Diane McKenna-Yasek RN BSN from UMass Medical School, and Ron Hoffman, Founder & Executive Director of Compassionate Care ALS). We hope you'll join us!
Our CARE MISSION: Improving Quality of Life
ALS is currently a terminal disease and essential equipment is not often covered by insurance. Those with ALS don't have time to wait for the essentials they need in order for to live their best lives while battling the devastating effects of the disease.
From the development of the Parenting at a Challenging Time in ALS (PACT ALS) program, assisting families impacted by ALS; the ALS House Call Program, enabling those battling ALS to be seen at home; the MGH Research Access Nurse program, matching people with ALS with research opportunities; and our tight collaboration between our ALS clinics at MGH and UMass Memorial with CCALS, enabling those battling ALS to receive the essential equipment and resources they require; you can feel confident that your donations are impacting care and the quality of life for those battling the devastating effects of ALS.
ALS ONE's intricate partnership with and financial support of Compassionate Care ALS (CCALS), helps cut red tape to ensure critical resources and essential equipment gets into the hands and homes of those battling ALS as quickly as possible. The compassion and assistance provided by our partnership with CCALS is an unmatched resource that everyone affected by ALS deserves. Learn more about CCALS HERE.