United In ALS research and care.
ALS ONE is an unprecedented partnership of world leaders in Amyotrophic Lateral Sclerosis (ALS) research and care who have joined forces to help cut bureaucratic red tape to combat the disease more efficiently and effectively for all.
ALS ONE provides care today, while uniting research for a cure tomorrow
Working together
By working together, our research and care teams at The Healey Center for ALS at Massachusetts General Hospital, UMass Medical School, ALS Therapy Development Institute and Compassionate Care ALS are making tremendous advancements and the hope on the horizon is brighter than ever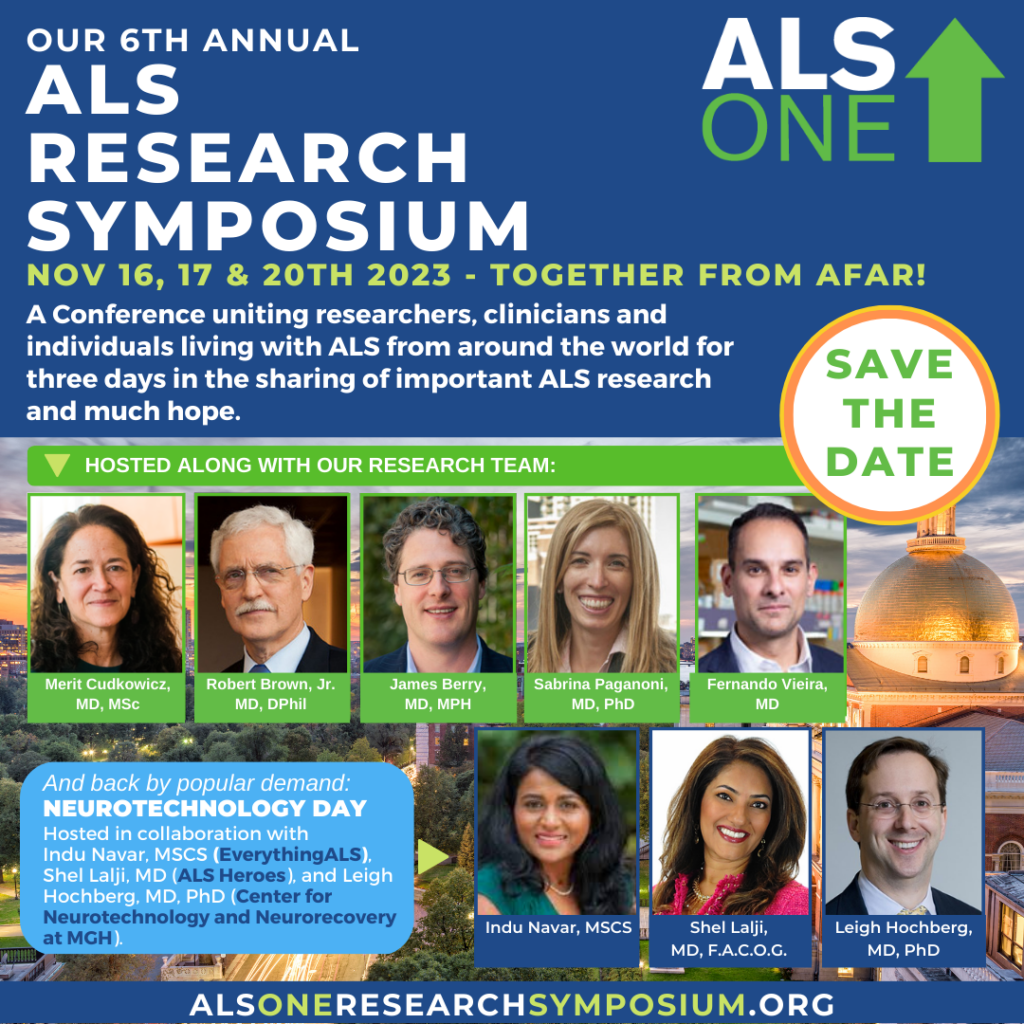 SAVE THE DATE
For our 6th annual ALS Research Symposium: November 16, 17, & 20th, 2023. This year's 3-day conference, which will include a day of keynote speakers, a day of industry updates, and a day dedicated to neurotechnology as it relates to ALS, promises to be another tremendous forum of rich content, discovery, and unity.
Links to the recordings of all presentations from 2022's symposium are uploaded to the Agenda tab of our symposium website after each talk title
Events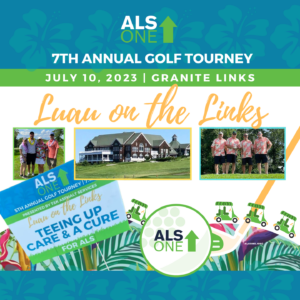 7th Annual ALS ONE Golf Tourney
Join us at Granite Links for our 7th annual Golf Tourney - Luau on the Links! Scramble start time is 1:30 with reception following.Get your Hawaiian shirts ready for ONE fun day! Registration and sponsorships are now open!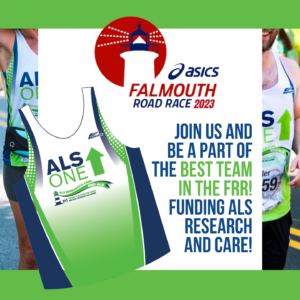 2023 ALS ONE Falmouth Road Race Team - OFFICIAL CHARITY!
Join our 2023 Falmouth Road Race Team - our biggest team event of the year! Whether, you'll be running 7 miles on 8/20/23 (official race day) or completing 7 miles by running or via another type of sport or exercise in the place of your choosing in the "At-Home" version, you're support would mean so very much!! Our team supports the research of our partners at MGH, UMass Med & TDI while enabling our partners at CCALS to provide equipment and care resources to individuals living with ALS now. Our "FALMily" means the WORLD to all of us!
TEAM NSF DRIVE FOR ALS GOLF TOURNEY
Registration and sponsorship is now open for the 3rd Annual Team NSF Drive For ALS Golf Tourney. August 25, 2023 at 9am at beautiful Juniper Hills Golf Club in Northborough, MA. 100% funding our ALS research and care. Team NSF was founded by Nicole S. Ferrari and her husband, Mike Garcia, to help combat the disease with which she lived so courageously and gracefully for over 10 years. Nicole lost her valiant battle to ALS in 2021 just weeks after the inaugural tourney that year but her legacy lives on through Team NSF and all whose lives she touched.