United In The Fight Against ALS
ALS ONE is an unprecedented partnership of world leaders in ALS research and care who have joined forces to help cut bureaucratic red tape to combat the disease more efficiently and effectively for all.
ALS ONE provides care today, while uniting research for a cure tomorrow
Working together
By working together, our research and care teams at Massachusetts General Hospital, UMass Medical Center, ALS Therapy Development Institute and Compassionate Care ALS are making tremendous advancements and the hope on the horizon is brighter than ever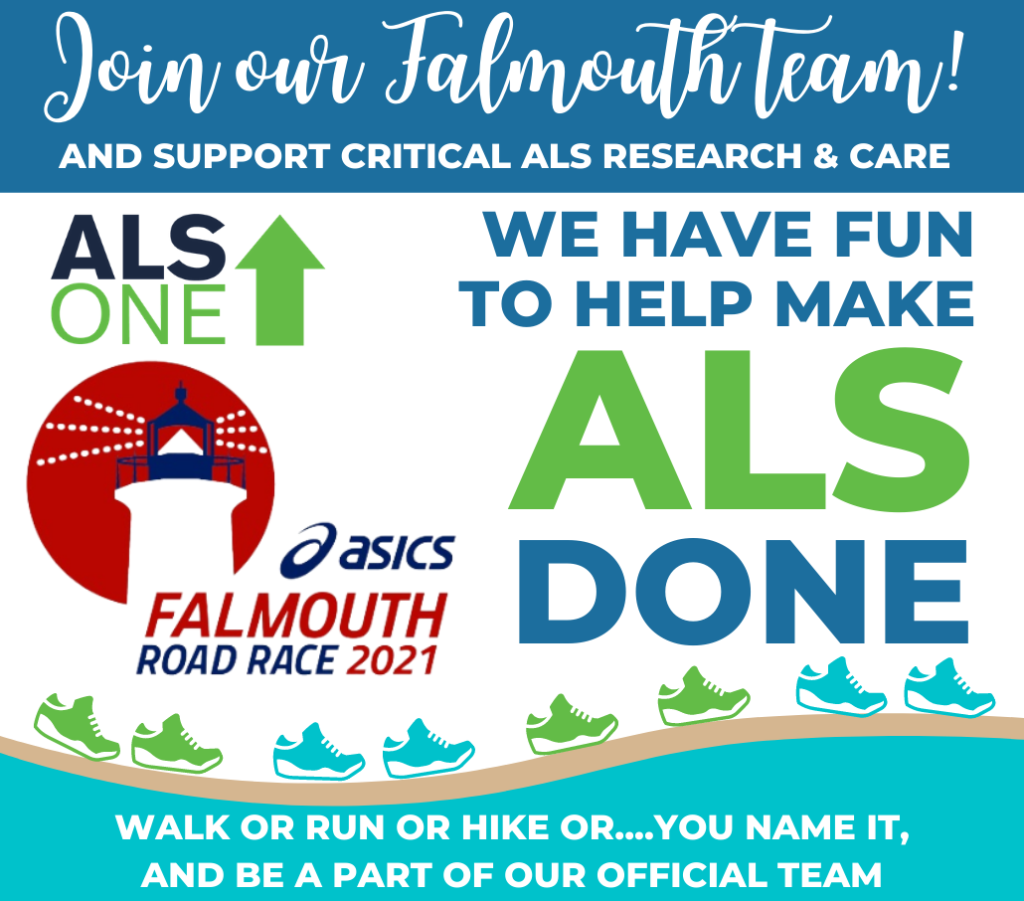 Featured Event
We're building our Falmouth Road Race 2021 team and we'd love and be so grateful to have you on it! Walk, run, hike, swim or complete your 7 miles any time you'd like in August and have the best time fundraising up until then! We have fun to make ALS DONE! Join us today by clicking HERE.
Looking back at our Virtually Amazing Gala!
Our 6th Annual Snow Ball Gala was held virtually on 1/23/21 with over 500 people tuning in from afar and we couldn't be more grateful for everyone's support! Together, we raised over $350,000 to support our research and care! If you missed it – we missed you but you can watch the show in its entirety by clicking HERE!
Events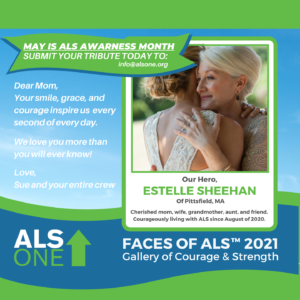 ALS AWARENESS MONTH (MAY 1-31): FACES OF ALS
THE FACES OF ALS. Each day on Facebook and Instagram throughout May, as we do each year to recognize ALS Awareness Month, we will be featuring some of the incredibly inspiring individuals who have been impacted by this devastating disease. If you would like to honor a loved one who has or is currently living with ALS, please email 1-4 photos, their name, town and a short message to or about them, to: jen@alsone.org.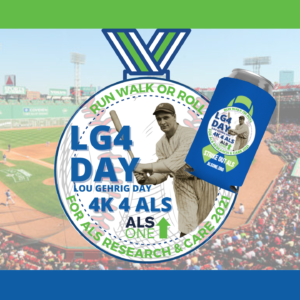 LG4 DAY VIRTUAL 4K 4ALS (MAY 1 -JUNE 2)
LG4 Day is now an official day commemorated by Major League Baseball to honor Lou Gehrig, the man for whom the disease was named in 1939. Join us for our 1st Annual LG4 4K Walk, Run, & Roll virtual road race during the month of May and ending on June 2nd, LG4 DAY. All participants will receive a commemorative medal. Your $35 registration fee will help "strike out ALS" for Lou and all others impacted by ALS. (4K is the equivalent to 2.5 miles).