United In The Fight Against ALS
ALS ONE is an unprecedented partnership of world leaders in ALS research and care who have joined forces to help cut bureaucratic red tape to combat the disease more efficiently and effectively for all.
ALS ONE provides care today, while uniting research for a cure tomorrow
Working together
By working together, our research and care teams at Massachusetts General Hospital, UMass Medical Center, ALS Therapy Development Institute and Compassionate Care ALS are making tremendous advancements and the hope on the horizon is brighter than ever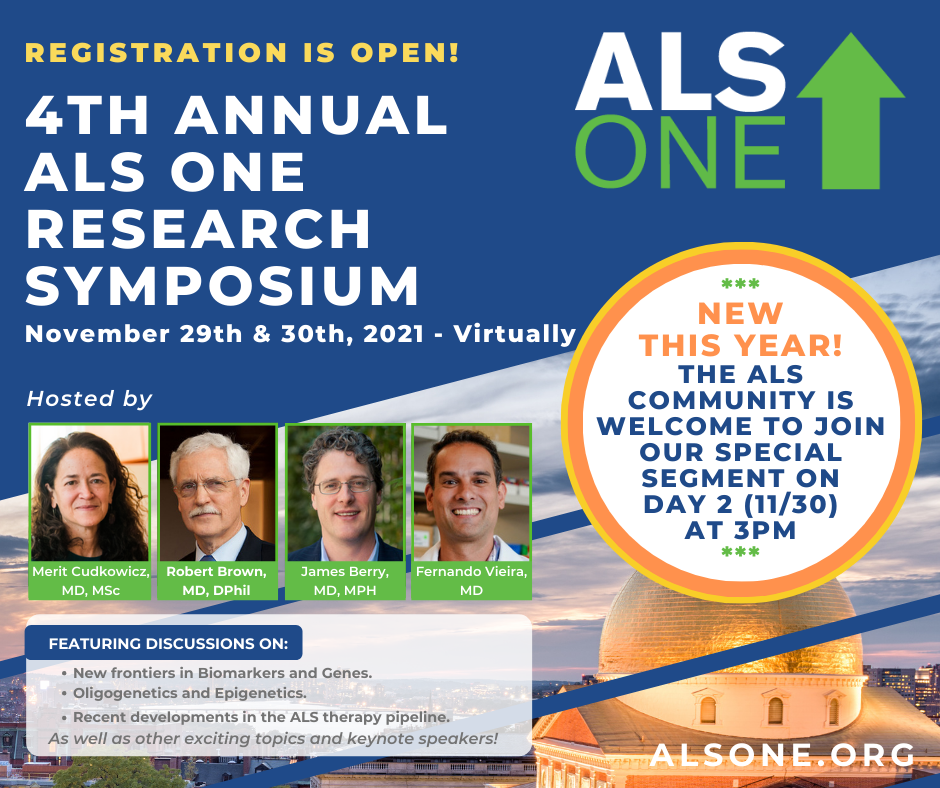 Featured Event
ALS RESEARCHERS: REGISTRATION IS NOW OPEN for our 4th annual ALS Research Symposium. Held virtually on November 29th & 30th to enable guests to attend from anywhere in the world, our 2-day conference features over 20 speakers and it a wonderful way to hear about all the latest therapeutic studies in the ALS pipeline. For the ALS community, we welcome you to join us on Day 2 (11/30) at 3pm for clinical trial updates and great discussions! View the full agenda and register for free HERE.
SAVE THE DATE OF JANUARY 29, 2022 FOR OUR 7TH ANNUAL SNOW BALL GALA, which will be held in-person at the Boston Marriott – Quincy.
Take a look back at our Virtually Amazing 2021 Gala which was held on 1/23/21 with over 500 people who tuned in from afar, helping us raise over $350,000 to support our research and care! If you missed it – we missed you but you can watch the show in its entirety by clicking HERE!
Events
10/11/21: Join us along the route to cheer on our runners, Maura Harold, Halle Grace, and Kerry Walsh, as they run their hearts out for 26.2 miles to support our critical ALS research and care. Our incredible teammates, each with someone very special in their hearts, have now raised over $41,500 to support our ALS research and care! Their fundraising pages will be open until the end of October and we hope you'll click to support them as they so selfishly take on this immense physical challenge.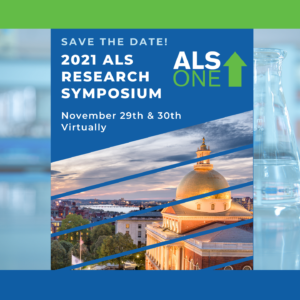 ANNUAL ALS ONE RESEARCH SYMPOSIUM Nov 29th & 30th
Researchers: Save the Date for our annual ALS Research Symposium! More details to be announced soon!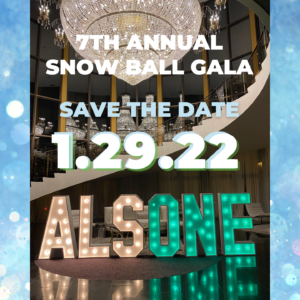 7TH ANNUAL SNOW BALL GALA
Save the date for our most magical night of the year - our annual Snow Ball Gala! Our hope is to be able to once again hold this event in-person! We've got it booked for Saturday night, January 29th, 2022 at the Boston Marriott - Quincy and our fingers are crossed that the pandemic will be long behind us! Stay tuned for more information as the date nears.