United In The Fight Against ALS
ALS ONE is an unprecedented partnership of world leaders in ALS research and care who have joined forces to help cut bureaucratic red tape to combat the disease more efficiently and effectively for all.
ALS ONE provides care today, while uniting research for a cure tomorrow
Working together
By working together, our research and care teams at Massachusetts General Hospital, UMass Medical Center, ALS Therapy Development Institute and Compassionate Care ALS are making tremendous advancements and the hope on the horizon is brighter than ever
Events
VIRTUAL TRIVIA NIGHT WITH ALL THE PLAYERS!
Join us to connect with friends and enjoy a memorable night! We're excited to be a part of this ALS-warrior packed night and hope you'll join us by clicking below. We hope your final answer will be YES! 🙂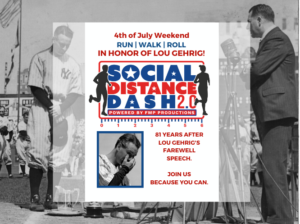 4th of July Walk, Run or Roll in honor of Lou Gehrig!
Join us at in a distance of your choosing on the course of your choosing on the day of your choosing between July 2-5th! Run, Walk, or Roll to commemorate the anniversary of Lou Gehrig's famous farewell speech due to ALS on July 4th, 1939. Social Distance Dash 1 was an absolutely incredible success and we know we can do it again! Will you do it for Lou or the person who most inspires you? Click below and be sure to choose ALS ONE at check out. To view our picture board from Social Distance Dash 1 during May 1-3, 2020, click https://bit.ly/ALSONEDASH1PICS
ALS ONE Falmouth Road Race Team
RUN WALK OR ROLL! Join our Falmouth Road Race team and create your own 7-mile course from and to wherever you'd like because this year is the 1st-ever "AT-HOME EDITION" due to COVID. NO FEES and an amazing experience make this year extra special! Take the fist step in joining us today!
Load More