United In ALS research and care.
ALS ONE is an unprecedented partnership of world leaders in Amyotrophic Lateral Sclerosis (ALS) research and care who have joined forces to help cut bureaucratic red tape to combat the disease more efficiently and effectively for all.
ALS ONE provides care today, while uniting research for a cure tomorrow
Working together
By working together, our research and care teams at The Healey Center for ALS at Massachusetts General Hospital, UMass Medical School, ALS Therapy Development Institute and Compassionate Care ALS are making tremendous advancements and the hope on the horizon is brighter than ever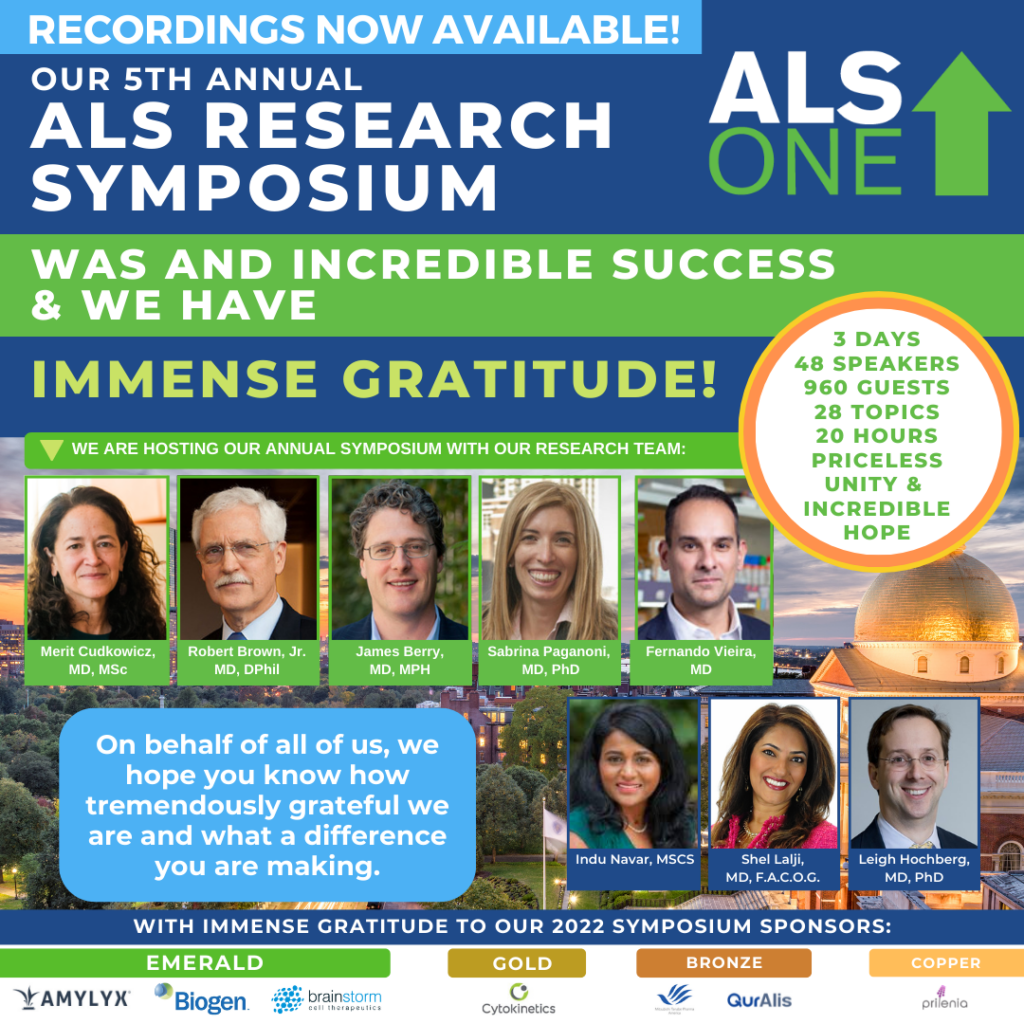 Our 5th Annual ALS Research Symposium
Our annual conference, this year held on October 6th, 7th & 11th was a tremendous success. There were over 960 attendees from 34 countries joining in from afar to listen in on the scientific presentations of 48 researchers from all over the world. It was an incredible forum of unity and hope as we all joined together towards the day when ALS is a treatable disease. We thank all of our generous sponsors, every single speaker, our research planning teams for all three days, and everyone from the ALS community for being with us.
Links to the recordings of all presentations will be uploaded to our Symposium website on the Agenda tab after each talk title: https://www.alsoneresearchsymposium.org/agenda
Events
50 States In 1 Day Bar Crawl
Join us & help us fill each state to move us all closer to a world without ALS. This is a non-branded event so let's have some fun to make ALS DONE! THE PURPOSE of this fun event is to encourage people from different ALS organizations (and all who support them) to come together to have some fun (we could all use it) while helping to achieve our collective goal of a world without ALS. Learn more by clicking below.
Tickets and sponsorships are now on sale for our 8th Annual Snow Ball Gala - our most anticipated and magical night of the year! 3/3/23 at The Marriott Boston - Quincy!
8TH ANNUAL ALS ONE POLAR PLUNGE!
REGISTRATION IS NOW OPEN for our COOLEST DAY OF THE YEAR - and although this falls on April Fool's Day, it is NO JOKE but it will be TONS of FUN! Per usual, we'll be at Rexhame Beach having a parking lot party of a time! Who will YOU plunge for?