United In ALS research and care.
ALS ONE is an unprecedented partnership of world leaders in ALS research and care who have joined forces to help cut bureaucratic red tape to combat the disease more efficiently and effectively for all.
ALS ONE provides care today, while uniting research for a cure tomorrow
Working together
By working together, our research and care teams at The Healey Center for ALS at Massachusetts General Hospital, UMass Medical School, ALS Therapy Development Institute and Compassionate Care ALS are making tremendous advancements and the hope on the horizon is brighter than ever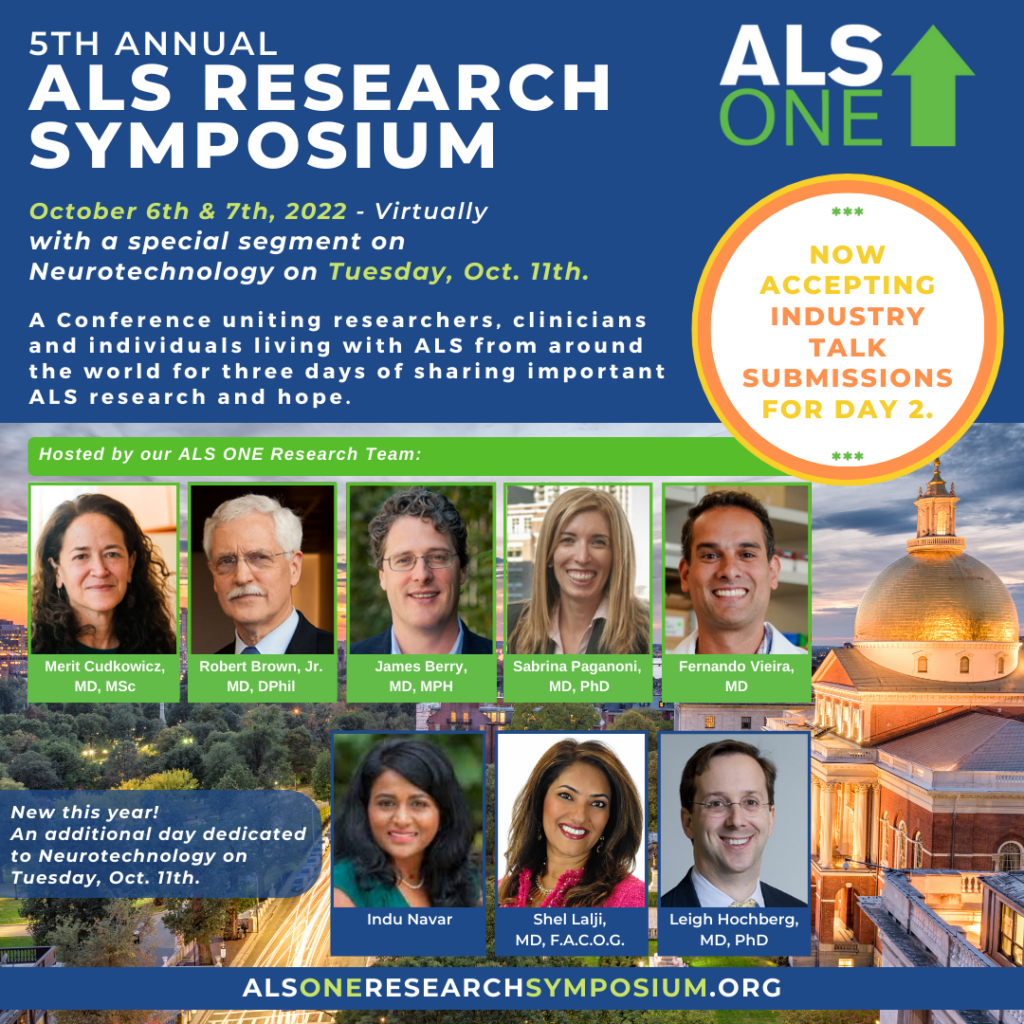 5th Annual ALS Research Symposium
Our 5th annual ALS Research Symposium – held this year on October 6th & 7th with an additional day dedicated to neurotechnology on Tuesday, October 11th. 
Researchers, if you are interested in speaking at the symposium about a treatment that you/your company has in development, please email jen@alsone with the talk title, brief description, and speaker name, by August 19th. If selected, each group will have 20 minutes to present, followed by a 10-minute Q&A session on Day 2. 
VISIT OUR SYMPOSIUM WEBSITE HERE TO REGISTER AND LEARN MORE.

Events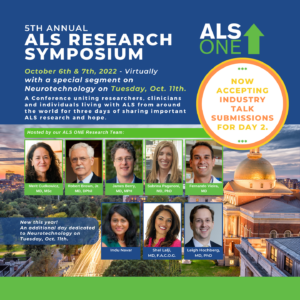 2022 ALS RESEARCH SYMPOSIUM OCT 6, 7 & 11TH
Oct. 6th & 7th 2022 with an additional day dedicated to Neurotechnology on Oct. 11th! Join us for our 5th annual ALS Research Symposium! Researchers, are you interested in speaking at our Symposium about a treatment that your company has in development? We're now accepting applications! Email jen@alsone.org w/your talk title, description, & speaker name, by 8/19/22.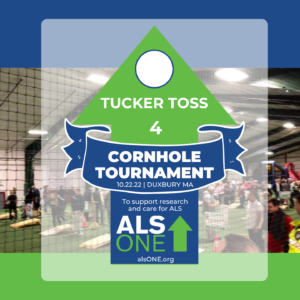 TUCKER TOSS CORNHOLE TOURNEY
REGISTRATION & SPONSORSHIPS ARE NOW OPEN! Join us for Tucker Toss 4! This FUNomenal day of cornhole fun is in loving memory of Tucker T. Wood, who lost his brave battle to ALS in March of this year, at age 39. In true Tuck spirit, this event promises to be all-things fun while funding research and care for the disease that took him from this world so cruelly. Visit the website for details!
We're extremely proud to be an Official Charity Partner in the 2022 TCS NYC Marathon - the course of which is a 26.2-mile block party through the world's most diverse and exciting city! Our fundraising minimum is $3,000 per runner and all funds raised go to advancing critical ALS research while supporting individuals living with the disease now by ensuring they have the necessary items and care resources they need in order to have the best quality of life while navigating the complexities of the terminal disease. Click below to learn more about joining our team: