United In The Fight Against ALS
ALS ONE is an unprecedented partnership of world leaders in ALS research and care who have joined forces to help cut bureaucratic red tape to combat the disease more efficiently and effectively for all.
ALS ONE provides care today, while uniting research for a cure tomorrow
Working together
By working together, our research and care teams at Massachusetts General Hospital, UMass Medical Center, ALS Therapy Development Institute and Compassionate Care ALS are making tremendous advancements and the hope on the horizon is brighter than ever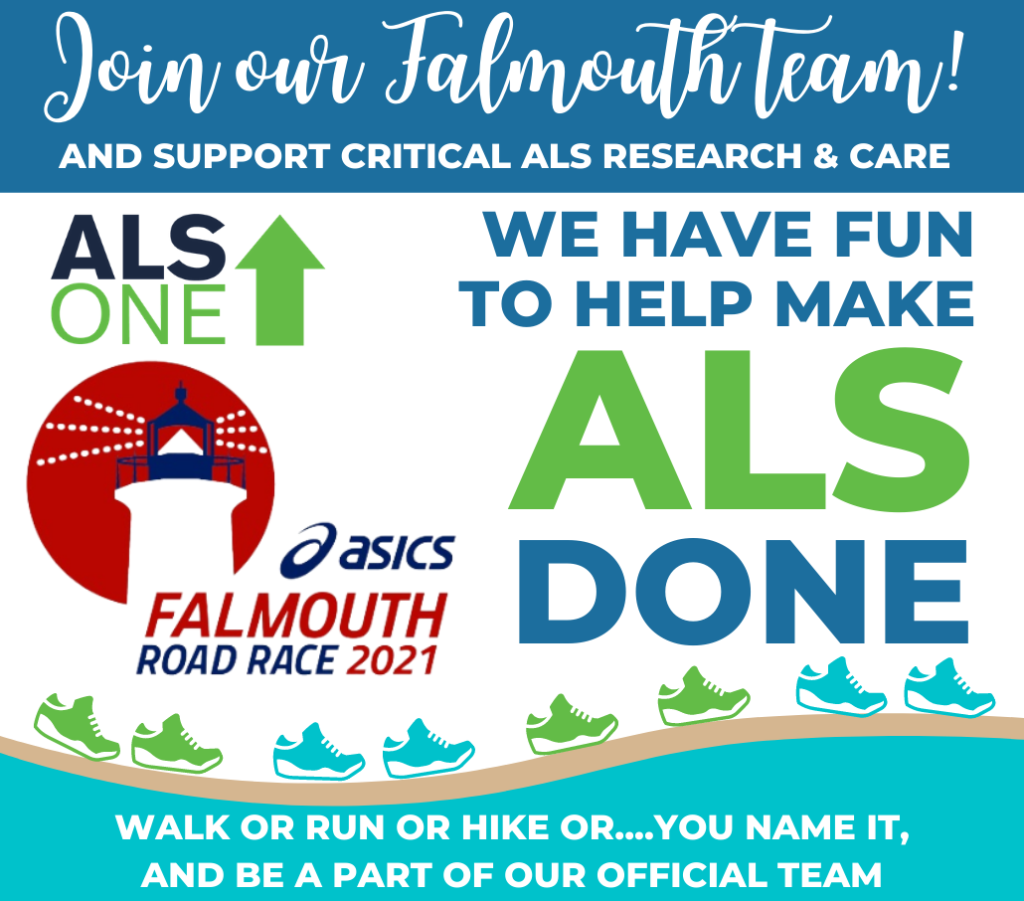 Featured Event
We're building our Falmouth Road Race 2021 team and we'd love and be so grateful to have you on it! Walk, run, hike, swim or complete your 7 miles any time you'd like in August and have the best time fundraising up until then! We have fun to make ALS DONE! Join us today by clicking HERE.
Looking back at our Virtually Amazing Gala!
Our 6th Annual Snow Ball Gala was held virtually on 1/23/21 with over 500 people tuning in from afar and we couldn't be more grateful for everyone's support! Together, we raised over $350,000 to support our research and care! If you missed it – we missed you but you can watch the show in its entirety by clicking HERE!
Events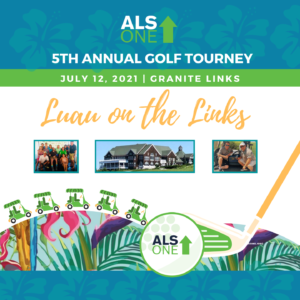 Golf Tourney 2021: Postponed due to rain
Postponed from July 12th to August 2nd due to rain. After a two-year golf hiatus due to the pandemic, our beloved outing on the links is back and promises to be better than ever! We're excited to announce that our 5th annual golf tourney will be a luau-themed fun and festive day, so get your collared Hawaiian shirt and clubs ready for a day of fun to help make ALS DONE! Sponsorship registration is now open and foursome registration will open on May 1st.
2021 Falmouth Road Race Team
We are excited to announce that ALS ONE will be fielding our largest team ever in this years Falmouth Road Race! We are so grateful to once again be a premiere charity in this highly anticipated and world-renowned event which has become such an incredible tradition and tremendous means of support for our ALS research and care. While we don't know quite yet if the race will be virtual or in-person, one thing we do know is that we're ready to make a tremendous impact either way! Click LEARN MORE for details
TRUE REP THEATRE: Into The Woods
Join us at the Reed Center at Grays Beach in Kingston MA for a very special theatrical production of Into The Woods. This evening of hope is in memory of David Bernardinelli, a True Rep actor, who lost his battle to ALS in 2018 at age 36. Bring your blankets and lawn chairs and get ready for a wonderful evening outdoors. Tickets will be on sale soon.