United In ALS research and care.
ALS ONE is an unprecedented partnership of world leaders in Amyotrophic Lateral Sclerosis (ALS) research and care who have joined forces to help cut bureaucratic red tape to combat the disease more efficiently and effectively for all.
ALS ONE provides care today, while uniting research for a cure tomorrow
Working together
By working together, our research and care teams at The Healey Center for ALS at Massachusetts General Hospital, UMass Medical School, ALS Therapy Development Institute and Compassionate Care ALS are making tremendous advancements and the hope on the horizon is brighter than ever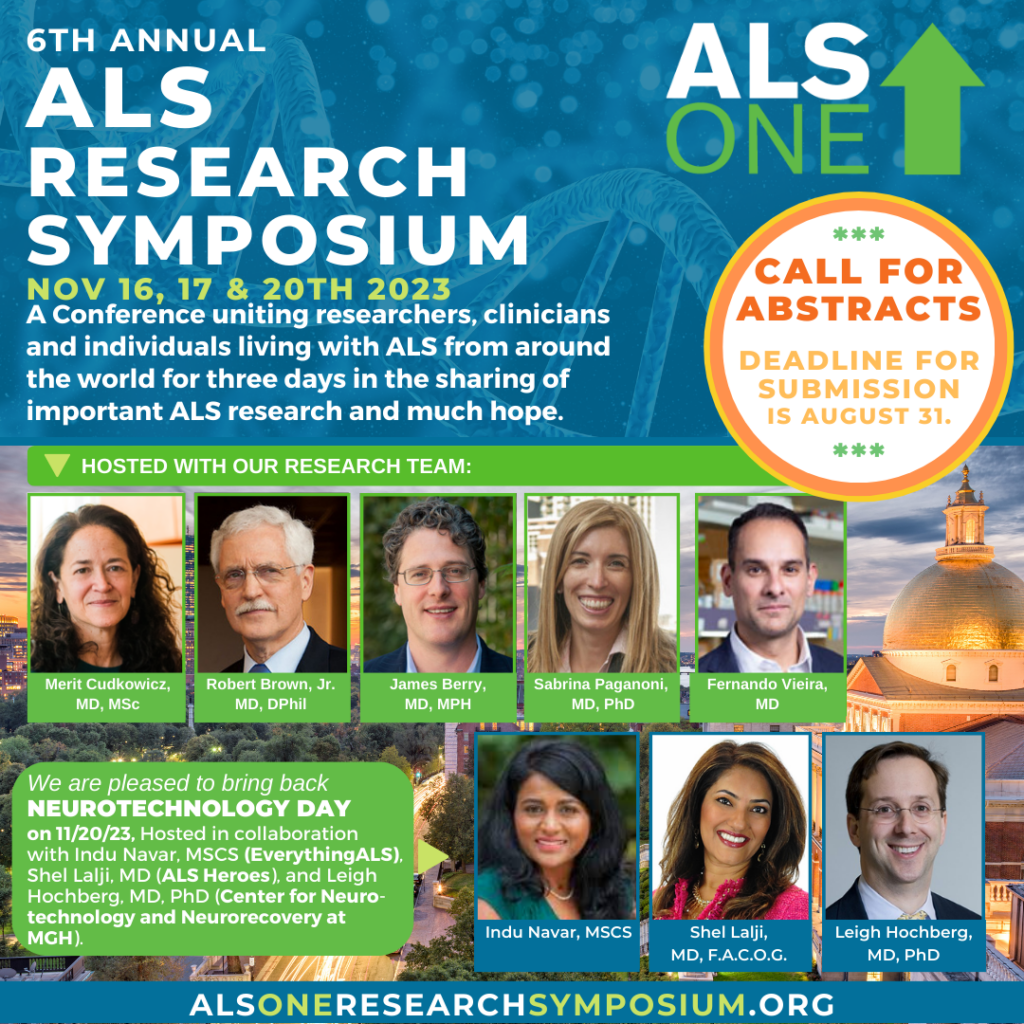 CALL FOR ABSTRACTS
ATTENTION ALS RESEARCHERS: If you are interested in speaking during our 6th Annual ALS Symposium's Industry Day (Nov. 17, 2023), about an ALS treatment that you or your company, institute, pharma has in development, we ask that you email your abstract title and description as well as the speaker's name by August 31, 2023 to jen@alsone.org for consideration. We will be accepting 12 presentations and speakers will have 20 minutes to present, including 5 minutes for Q&A immediately following their talk.
.
Sponsorships and Registrations are also now open! Learn more about all HERE.
Events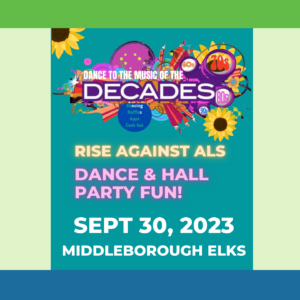 RISE AGAINST ALS Decades Dance Party
Tickets are on sale for RISE AGAINST ALS' DECADES DANCE PARTY to support ALS research and care. Hosted by Michelle Strojny, who has been living with ALS for the past 3 years, along with her friends & family, to 100% support our critical mission against the disease she fights so courageously. ALS IS DECADES OVERDUE FOR A CURE SO LET'S DANCE TO THE MUSIC OF THE DECADES TO HELP #EndALS!
Join us for CARS & COFFEE on Sunday, October 1st in the parking lot of Arturo's Ristorante in Westborough, MA from 8-10am to check out some truly fantastic cars while sipping on coffee and all the while supporting our mission in the fight against ALS. . This event is hosted by Fran Zarette and Dom Fabiano in loving memory of all ALS warriors, but especially their very dear friend, Tony Abu from Northborough, who lost his stoic battle with ALS one year ago from event weekend, at the age of 75. Tony was as kind as he was creative, hardworking and generous - always thinking of others first and helping them fulfill their dreams. . We hope you'll stop by either to have your own car on display or to see some other really beautiful ones. Tony was a big car enthusiast and we know he'll be smiling down on this great event in his honor.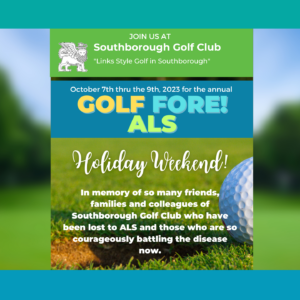 GOLF WEEKEND AT SOUTHBOROUGH GOLF CLUB (10/7-9)
Join us at Southborough Golf Club during the October 7-9th holiday weekend for their annual GOLF FORE ALS event where half of all greens fees will be donated to ALS ONE to support our ALS research and care! This annual event is in memory of Southborough's hometown ALS heroes, John Wilson and Brian Shifrin, who both lost their courageous battles with ALS in 2019. These two beloved members of the town of Southborough were committed to the acquisition, upgrades, and success of the golf course and did so very much for the entire Southborough community. Please call the pro shop at 508-460-0946 for tee times. Southborough Golf Club is located at: 32 Cordaville Rd, Southborough, MA 01772.